The Forestry Commission- Thetford Forest Concerts
The forest tour was launched in 2001 and aimed to attract major acts for a series of concerts in an outstanding location. Over the years the tour has grown with the Forestry Commission now being a major promoter of summer concerts. There are six venues part of the Forestry Commission, with the largest one being Thetford Forest.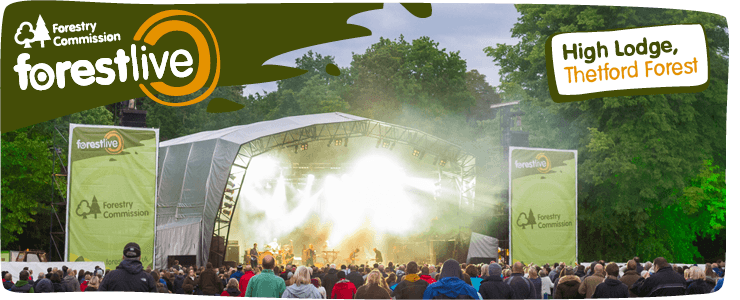 Service summary
As the concerts become more and more popular at Thetford Forest, there was identified the need for an external traffic management operation, with CSP being appointed as the CSAS (Community Safety Accreditation Scheme) provider in 2010. Following the smooth run of the operation, we have been awarded with the car park management contract, becoming the internal and external traffic management provider for the last two years.
With approximately 22,000 visitors over a three day concert, we would deploy between 6 and 8 CSAS marshals on a daily basis. The operational planning begins one month in advance of the events, when the stakeholders have a better insight of the number of attendants. In partnership with the event organisers, we would decide on the number of entrances that are going to be manned by our CSAS marshals on the event days.
During both ingress and egress phases the CSAS marshals predominant role is to stop the thoroughfare traffic so that the concert's visitors could enter the venue, whilst minimising the disruption to the local community and the local traffic.
On the ingress phase we usually manage three entrances that lead to the venue, by stopping the local traffic to allow the concert visitors to enter the car parks. Each entrance is designated for a certain category of vehicles, with the High Lodge Entrance being opened for Coaches, limousines, Mini-busses, Disabled and Staff, with the other two car parks entrances serving cars. Our CSAS marshals also need to manage the Taxi Drop off and Pick-up point. On top of these there is an Emergency entry for emergency vehicles which is not available for the general public.
The main scope of the egress phase is to split the traffic exiting the car parks equally, whilst stopping the traffic on both sides of the roads and allowing the vehicles to exit the car parks. We are able to apply this strategy as there is no general traffic on the roads where the exit is, as the concerts usually finish after 10 pm.
At all times the car park marshals would communicate through radios with the CSAS marshals and inform them of the car park available capacity or the exiting speed.