Hampshire County Cricket Club - The Ageas Bowl
As part of CSP's continuing expansion in the Stewarding and Security Services industry, Hampshire County Cricket Club (HCCC), already a long-standing client in relation to our provision of Traffic Management and Car Parking Services, has become another venue in a long line of household names to enter into a multi-year agreement with us for additional operational services.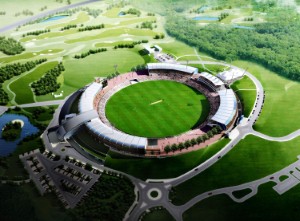 Service summary
With varying size cricket fixtures held at HCCC during the calendar year, as well as conferences and exhibitions at the Ageas Bowl, this partnership demonstrates CSP's ability to provide the combined services of car park and traffic operations, professional security, stewarding and hospitality staff. 
Our experienced CSP team has taken a pro-active lead role in reviewing and rationalising operations and addressing the challenges posed by the blend of ardent cricket fans and more "casual" one day event attendees. CSP has assigned Joe Frimpong as the Operations Manager at the Ageas Bowl to oversee the recruitment, training, deployment and management of our traffic management operation, and John Gilligan to manage the Security and Stewarding operation as part of the combined services model.
Such personnel include, but are not limited to:
Safety Stewarding          
Player Escort Security
Control Room Supervisor
Hospitality Stewarding    
Pitch Protection Security
Media Compound Security
Entrance Search Security
Turnstile Operatives
Radio Controller / Loggist
Response & Ejection Security
Park & Ride Stewarding
Supervisors & Management
In line with all other client sites, CSP also produced a bespoke "Operations Manual" for our activities at the Ageas Bowl with timeline tasking and associated risk assessments, method statements, job descriptions and general instructions that form the basis of our event day team briefings.